SPEEDSTERS WEEK 4

The puppies have blossomed and are really turning into individuals now. They have been having supervised sessions outside and are enjoying exploring the world. They were introduced to an agility play tunnel and all decided it was pretty cool. Yellow was first to go through, then pink, then white, and the rest soon followed. Kelley is now working on the outdoor obstacle course play area.

Indoors, the speedsters have lots of free time in the living room with the family. They still sleep in the whelping box but the door has to be up or they easily climb out! Besides their regular milk bar, they are now being offered soaked puppy kibble several times a day.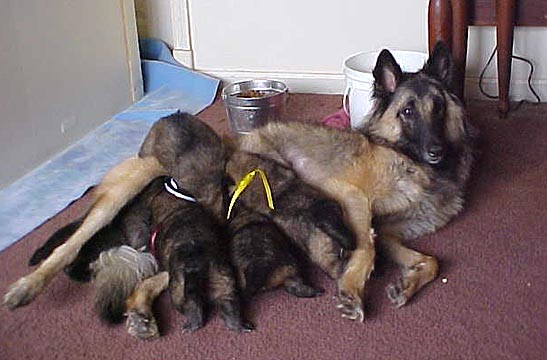 The Mom Obstacle Course & Milk Bar is Open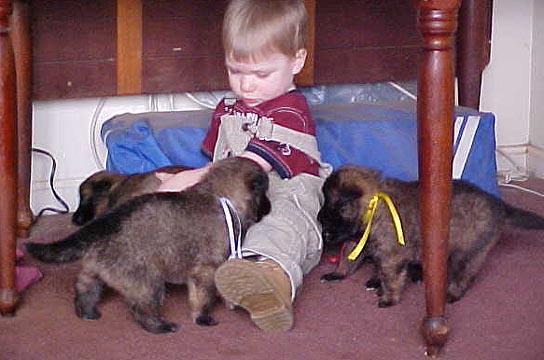 William is surrounded!
| | |
| --- | --- |
| Red Girl | White Boy & Pink Girl |
| | |
| --- | --- |
| Yellow Girl | Kayleigh & Yellow Girl |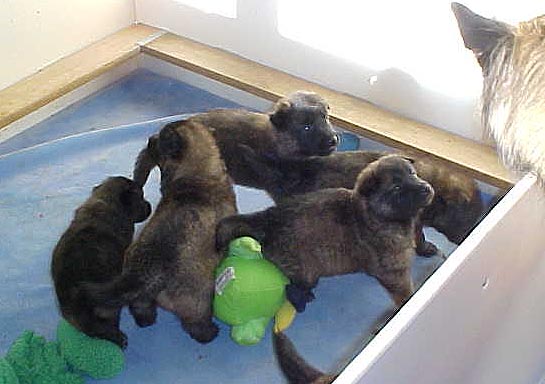 Help us, Mom, we want OUT!
Look at photos from Week 5
Return to the Puppies page
Watch for more puppy photos, courtesy of Kelley!

Kathy Madden
Montage Tervuren
New York, NY USA
madterv@aol.com
European visitors please use madterv@yahoo.com