| | |
| --- | --- |
| | ADIRONDACK MEMORIES |
Here are photos from Montage summer vacations in the Adirondacks. We stayed in a cabin by Upper Saranack Lake for three years in a row at the historic Wawbeek Resort in the High Peaks of NY. Alas, the resort was sold in 2007, but we have wonderful memories from our summers there. George at ages 13, 14, and 15 thoroughly enjoyed these trips. The Wawbeek was a dog-friendly place and our dogs were welcome at the beach and on the woods trails. Our dear Thor was with us the first summer and rarely came out of the water. Same for Torchy, Mulan's favorite swimming companion. Because of Torchy, we always had sand in our bed!

For our last Wawbeek summer, we had Tamarack and Birch cabins overlooking the lake. Three weeks of heaven! Montage fur family members stayed in Hemlock just up the road with a rocky deck in the woods -- Maeve Knapp with Breaker, Grandma Carol with Angie, and Amanda Knapp with Rory. We even coaxed Maeve's sister Maura Hogan to drive up for a visit and Malibu learned the joys of lakeside living. Boo made her wishes very clear -- she now wants her own boat! We hope to find another place to share summer adventures. These were very special times that we will always treasure.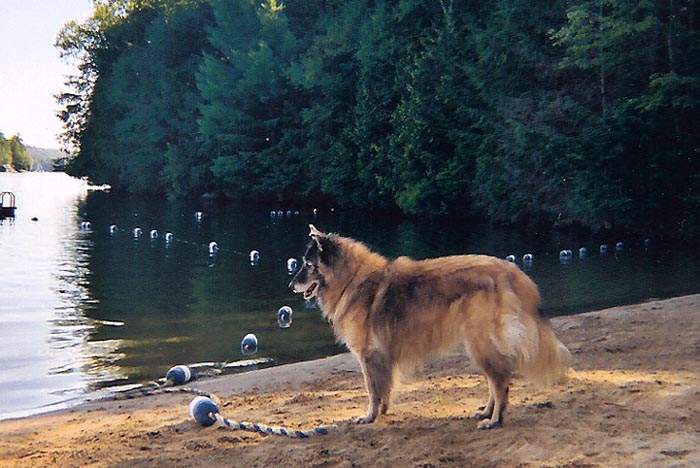 George at 14 years old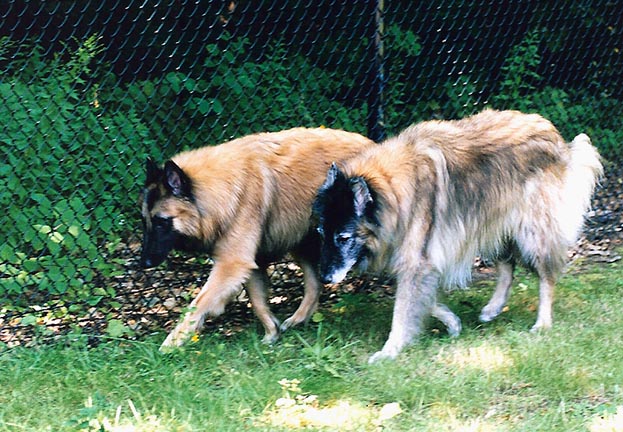 Father & Son (Henson L, George R)
| | |
| --- | --- |
| Thor with Maeve and Mulan (Summer '05) | Swim on, silver wolf! |
Mulan (at age 6) & Torchy up at the Lake House

Watersports (Mulan & Torchy)

Tandem retrieving

Angie, George & Kathy

Breaker, Maeve, George

Henson enjoying beach play

Canoeing
| | |
| --- | --- |
| George, Mulan, Torchy | Where's the ball? |
| | |
| --- | --- |
| Sandy George | Marshmonster! (Torchy) |
Sleepy time

Adirondack chairs
| | |
| --- | --- |
| Wawbeek grin | On top of a wawbeek |
Ah, this is the life!

View photos from the Adirondacks 2007

Kathy Madden
Montage Tervuren
New York, NY USA